Hi friends! Exciting news today: I got nominated for the Versatile Blogger Award. This makes me so happy and honoured! Major shout out to the lovely Yousra over at Mystic Tales and Alyssa at Stylecentric Fashion for the nominations.
( I couldn't find just one logo for this award so here's Lamia's version… because it's gold. Duh. )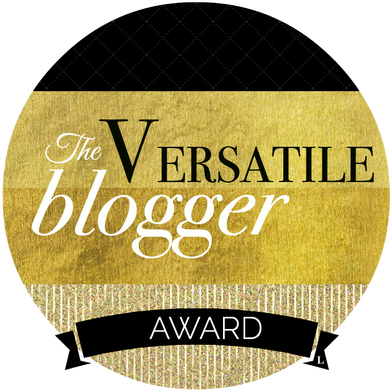 The rules for The Versatile Blogger Award are :
+ Thank the person who gave you this award.
+ Include a link to their blog.
+ Select 15 blogs/bloggers that you've recently discovered or follow regularly.
+ Nominate those 15 bloggers for the Versatile Blogger Award.
+ Tell the person who nominated you 7 things about yourself.
Let's start with those 7 things about myself:
+ I'm both a night owl and morning person- I just need my 8 hours of sleep.
+ I love coffee but the caffeine just makes me super hot for some reason.
+ The next language I want to learn is Arabic or Russian.
+ I have Celiac's disease so I'm one of those gluten free people.
+ I want to be an account manager at an advertising agency when I "grow up."
+ I'm team Android through and through (I can't use anything but Mac computers though).
+ My favourite sports are running and surfing (not that I'm a pro at either at all).
(Here are other versions of the logo for your perusal or choosing)
So that's that! It's actually a lot hard than you'd think to come up with 7 random things.
As for my 15 blogs that I am totally kinda in love with:
+ The Skinny Confidential
+ Queen of Jetlags
+ Blawnde
+ Wonderlass
+ Sweaty and Fit
+ Lipstick and Confetti
+ Explores More
+ Skinny Bell
+ Frugal Beautiful
+ gh0stparties
+ Permanent Procrastination
+ The Nectar Collective
+ Lazy Girl Running
+ Global Girl Travels
+ Hive Queen Bee
+ Mojo ( <- bae)
Although G&J is a young blog, I love all the well, love I've gotten from the blogging community. People sometimes think of bloggers as self-absorbed photo-holics just yapping away from computers but every single blog I've come across is run by an intelligent, creative and I'm sure lovely person. You all are stellar.
If I haven't checked out your blog yet, I'd love to! Please comment your URL below!