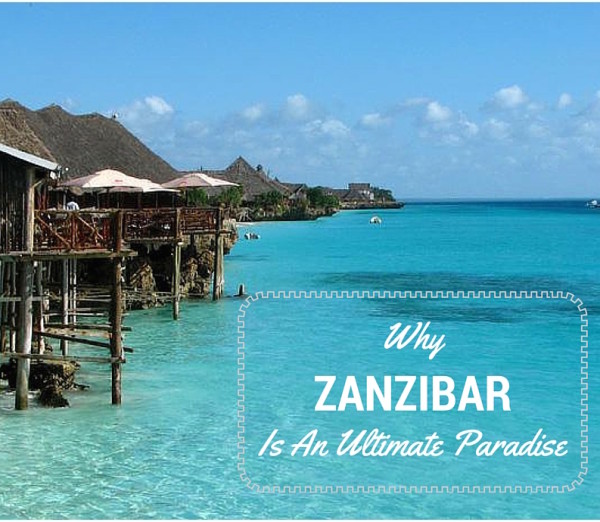 (via)
I've always wanted to go to Africa. It's awesome to think there are so many places (and probably always will be) I haven't seen yet.
Today on G&J, we've got a guest post from Amy who shares my love of travel and approached my to write a blog post about her travels in Africa (so jealous!).
Here's why she thinks Zanibar is a totally underrated paradise:
"» "» "»
I am an avid traveler – guilty as charged, and proud of it. Still, during my explorations, I seldom come across a region that is both wild and sophisticated, urbane and raw, and thrilling and relaxing at the same time. That is why I love Zanzibar so much: some 25 miles off the Tanzanian coast, the marvelous archipelago welcomed me with its warm waves and clean beaches, and let me feast on its untamed beauty, vibrant culture, appetizing flavors and numerous historical sites that have inspired awe, imagination and curiosity among tourists for decades. To get around all these places, tourists generally rent motorbikes from agencies like Riderly. For motor enthusiasts, this would be one great way to explore the archipelago. A true paradise on Earth, Zanzibar will certainly live up to your highest vacationing standards – and here is why.
1.Fascinating History and Vibrant Culture
(via)
Due to its centuries-long trade relations with the East and the West, Zanzibar takes pride in a vibrant cultural mix heavily impacted by Asian, Arab and European influences. Though Swahili is still heard, English, French and Italian are dominant languages, so you will easily find a common tongue with the locals. The history of Zanzibar is marked by overlapping eras of foreign rein: first under Portuguese administration (16th-17th century), the region was soon taken over by the Omani Sultanate, only to fall under British rule toward the end of the 19th century. This is why Zanzibar is often regarded as a hotpot of culture: every nation that held control over the region left an indelible mark on the identity of the native population.
2. Zanzibar Spice Tour
(via)
Spice tradition in Zanzibar dates back to the 16th century and the era of Omani reign, when first herb plantations were created to provide spice supplies for the Sultanate and other export markets. The Zanzibar Archipelago is therefore sometimes referred to as the Spice Islands, and today's spice tours reveal the details about planting, harvesting and use of spices in local dishes. During the tour, you can try Zanzibar's exotic fruits and delicious traditional dishes seasoned with organically grown herbs such as nutmeg, clove, cardamom, cinnamon, vanilla and pepper. Bon appétit!
3. Scenic Zanzibar Beaches
(via)
I have seen my share of Africa's coastline, but I can assure you beach fun does not get any better than in Zanzibar. Up north, I dipped in the warm waters off the Nungwi shore: a paradise for loners and newlyweds, the palm-fringed beaches with silky sands and gentle sea breezes offer an ideal tropical getaway for Westerners plagued by wanderlust and love of romance. In the east, Kiwengwa and Pongwe beaches extend to tropical forests, allowing you to set out on a daring exploration of Zanzibar's wilderness and see some of the region's endemic species such as red colobus and blue monkeys, Aders' duiker, sykes, and sunni antelope. If travelling to southern Zanzibar, check out Kizimkazi, a fishing village that has recently gained popularity as one of the archipelago's major attractions where you can sail out to see bottlenose dolphins.
4. Stone Town
( via )
For a lesson on Zanzibar's history and culture, head over to Stone Town. Once the capital of the Zanzibar Sultanate, Stone Town is home to numerous historical monuments such as the House of Wonders, the Old Fort, Forodhani Gardens, and the Palace Museum. One feature of local architecture that caught my eye in the city is Zanzibar's unique door look, characterized by high arches and elaborate carvings.
5. Shoppaholics' heaven
(via)
One more aspect of Zanzibar I immediately fell in love with are colorful marketplaces brimming with high-quality local produce. I was thrilled to learn that you can purchase spices, fabrics and various handcrafts at surprisingly low prices here. The same is true of online stores in Zanzibar, where you can get excellent deals for even luxury products. For instance, I purchased an iPhone via this link for half the price I would otherwise have paid in Australia. Too bad I had limited luggage space, otherwise I would have hauled a host of small appliances back home!
"» "» "»
Where have you always wanted to travel? Does Zanzibar sound good to you?
About the author:
Amy Goldsmith is a business assistant from Melbourne. Her job allows her to travel a lot, which also happens to be one of her greatest passions. Find out more about her travels on Twitter.