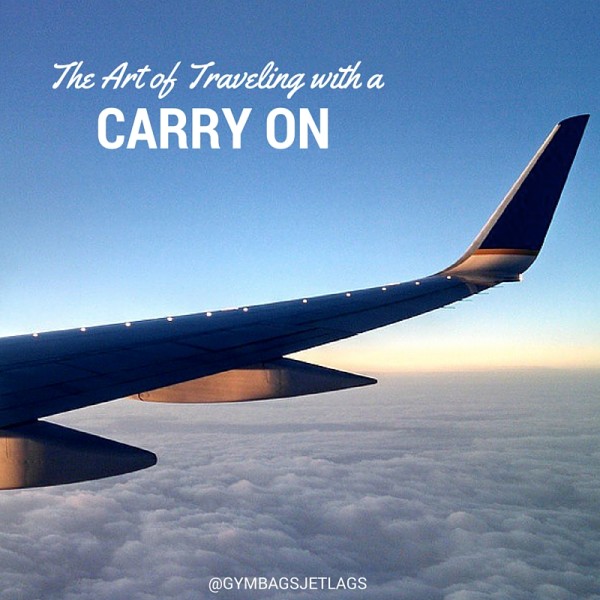 Ah yes. The art of the how to travel with a carry on is a great yet complex one.
One must not make the carry-on too heavy, as it will then be a pain to get into the airplane overhead storage.
One also must consider the carry-on luggage size as airlines have strict regulations in place to ensure no one takes a bag that's too big.
However, one must not under-pack either, as this will leave you unequipped & feeling empty at your destination.
Don't get me started on the whole liquids things.
The beauty of a carry-on is that it takes away any anxiety about losing luggage or missing a transfer due to the long wait for your suitcase to appear. Carry-ons are great because you can walk right off the plane and out of the airport without waiting at a luggage carousel (#tbt to the time Newark Airport lost my suitcase on a direct flight).
But they admittedly can be a bit of a drag sometimes (literally) if you have to drag them through airports and multiple transfers.
Overall, the most important parts of traveling with a carry-on are getting it through security and situated in the plane. I've put together a few tips on how to travel with a carry on that'll hopefully make your journey with a carry-on a little easier.
Tips for getting through security like a pro:
get your liquids sorted before you go to the airport
have your laptop, tablet, etc either outside of or at least on top of your carry on
if you're not sure if you're allowed to bring something, just leave it at home or put it in your checked bag
No one wants to be hanging around security for an extra minute to have their bag searched. The last step of getting on your way is actually boarding the plane… My tips are:
the fuller the flight, the more strict cabin-bag-sizes are; make sure your bag fits in the little bin
if they offer to check your carry-on bag on a full flight, it's sometimes worth it (you won't have to worry about squeezing your bag into overhead storage that's ten rows away from your seat)
take out what you'll need for the flight before boarding (I've been that person who has to open the overhead storage multiple times during a flight… you don't want to be that person)
With those six tips for how to travel with a carry on you should be well on your way to becoming an carry-on pro. I've always been a fan of checking a huge bag for international cross-ocean flights and then traveling with just a small purse. But carry-ons have really grown on me.
What are your insider packing tips? Any funny luggage stories?!