I have been wanting to do a post on some books for the LONGEST time.
I just feel like no one's realllllly interested in my laundry of books that I want to read and single-book review posts aren't that great.
So.
Instead, here's a mega post about how to read more and some books I've absolutely loved in the past few months, some books I've absolutely hated and some that I really want to read.
Also, disclaimer: I only read fiction.
That doesn't mean I only read books about wizards and cloud castles. But if I'm going to read for fun, I don't want it to be about my real life! And as much as I wish I had the patience for non-fiction political books, I just feel like I'm getting lectured at for days on end when reading them.
Also, recently, I have been thinking about writing a children's book so I have been reading as many different types of books as possible for inspiration. Reading books is so important for young children and I want to be able to help out by providing a fun new book for little ones!
To be honest, I have been thinking about writing and illustrating a children's book of my own for some time now. I work from home so it would just be a case of finding the time to get stuck in. I have a few ideas that would just be so perfect for my story, and I love sketching and painting all the characters.
One of my friends is an illustrator too, she has worked on so many children's book illustration jobs over the years, so I might have to ask her for some advice. Watch this space!
Anyway, before we get into my book lists,
I want to address all of you out there who are wondering how anyone even has time to read.
*Yeah, I just read your mind.*
I'm a university student which, yes, means I'm pretty busy.
But all my classes and meetings start at around 4pm every day and I'm just not the kind of person who can sleep all day (trust me, I've tried). Which leaves me with so many empty hours.
Enter: reading for fun.
I know it sounds frivolous (why read a story about Constantinople court when you can read a textbook about International Marketing, right…..) but I think reading keeps me sane.
I'll also admit that there are definitely weeks when I don't have a single spare second to pick up a book. My reading fluctuates. And I'm okay with that.

I'm probably biased because this book takes place in New York City but I could not put this book down. It's easy to read while having blips of cool information about the world of fine food and wine.
NOT 50 Shades. This dystopian book describes a world where people are sorted into classes based on what colours they can see. It's a super cool read with a fun story.
This book has an elephant, courtly life and Michelangelo. I was in love. While it gets a little sad at the end, this book does a really good job of following its protagonist from the age of 12 to 90. Did I mention the elephant?

It just went on and on and on. I actually got a little depressed just reading this book. Maybe that means it's actually a good book but I personally just ended up putting it down.
This book seemed to be everywhere so I was a little disappointed by its slow pace and super erratic writing. The switching between first and third person and multiple names for one person had me a bit confused. I didn't make it past halfway.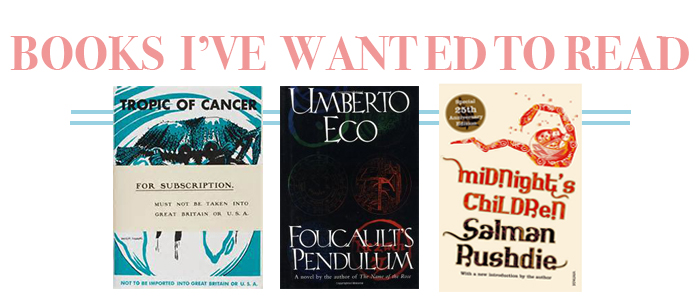 (This section is a little hard to write about because I don't like knowing what books are about before reading them… I know, I'm a weirdo. I usually literally just judge books by their cover).
All I know is that I found out about it on Tumblr and that it was banned in the UK and US. So it must be good right?
I studied Eco for class and he seems pretty cool. Also this seems to be about secret societies so I'm sold.
Rushdie has been one of my favourite authors since we read Haroun and the Sea of Stories in 6th grade. This is one of the only books of his I haven't read yet.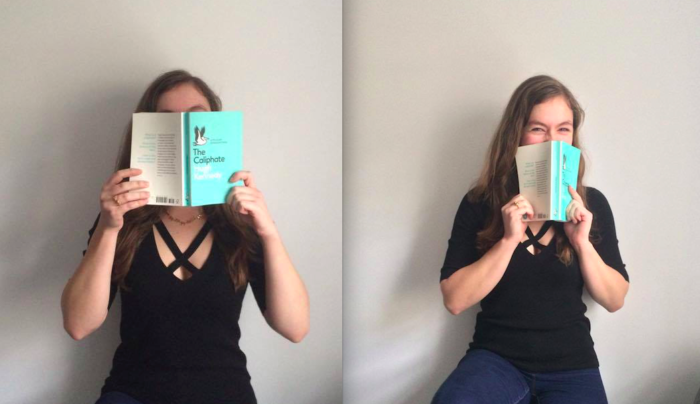 Whenever I read posts like this, I find myself wanting to reorganise my life so I can read even more.
There are definitely a ton of life hacks to get yourself reading more:
+ read before bed
My bedside is where most of my books life for easy access.
+ read in small doses
Just 20 minutes or 10 pages is totally fine! Reading one book for a month is also totally fine.
+ read what you like
Despite their popularity, I hate books like Gone Girl and don't bother reading them.
+ read productively and to learn
Right now I'm reading about the first Caliphate because I'm taking an Islamic painting class. Cool stories + school facts = actual interest in my classes!
+ don't force yourself
If you stop halfway through a book, it's okay to move on. I'm so bad about half-finishing books.
I hope this post has inspired some of you to pick up something random and start reading!
Thank you for reading to the end, my little budding book wormies.
Have you read or heard of anything good recently? What's your go-to genre?