* Saturday/Sunday Staples is a new post series where each week I share one thing I couldn't live without; a staple in my life. I promise this series will never feature any sponsored content and will always be my organic, true opinions. Enjoy! *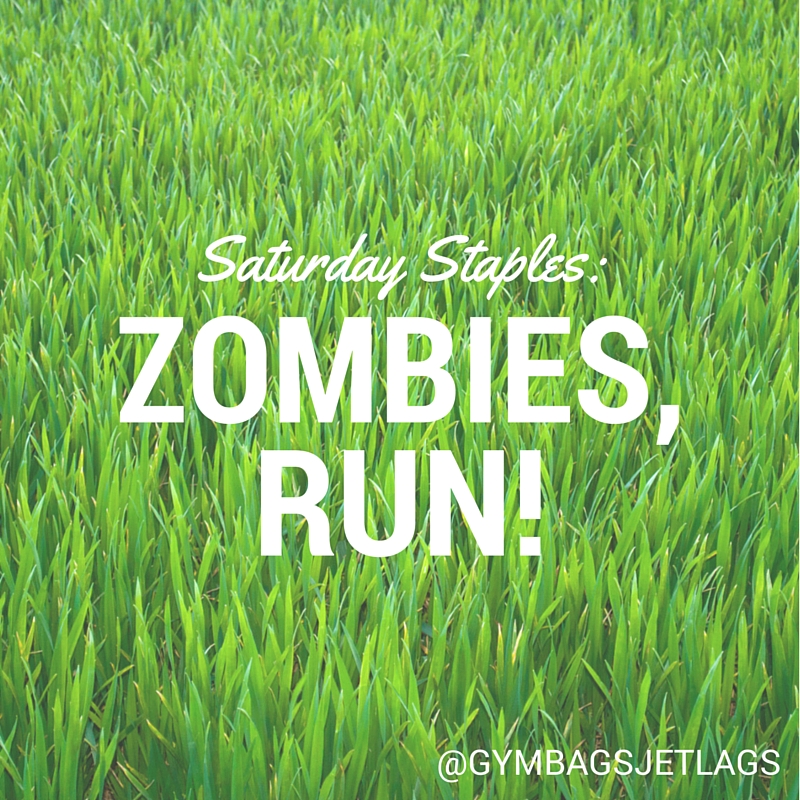 Those of you who have been with Gymbags and Jetlags for a bit know how much I love running. It's good for clearing my head, relaxing or some productive procrastination.
But even I sometimes have trouble finding running, well… Interesting.
That where Zombies, Run! comes in.
Firstly, let me say that I never got into this whole zombie trend (I really tried to like the Walking Dead but just couldn't). But there's something incredibly exhilarating about hearing, "Runner Five, speed up! You're being followed by zombies!"
Zombies, Run! is both a run tracker and game. The game pretends that you're a runner for a base camp after surviving humans after the zombie apocalypse. Your earphone work as your "radio" and the app links seamlessly with your music.
So yes, you can still jam out to Britney between updates from HQ on your current mission.
You can select missions either by "episode" (each is about 30-45 minutes) or an "air drop" (where you choose a location on an actual map and run to it). It's the perfect running companion for anyone from 3k-runners to marathoners. You can also use it for cycling.
There's also a Farmville-esque aspect to it in that you can build your base and buy new things (like schools or bars) with money and tools you collect on your runs.
Overall, this is one of my favorite running apps by FAR. While I still mainly use my Nike GPS watch (post on that to come) for run tracking, I love the motivational and imaginative parts that Zombies, Run! offers.
Wanna try it? Here it here for Apple or here for Android.
Still not convinced? Watch this super-cool promo video from them (they explain it way better):
** images from Wired.com